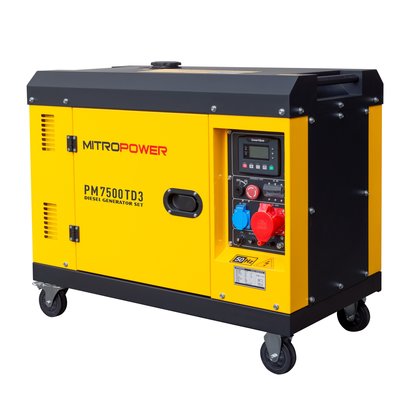 Mitropower
PM7500TD3 | Diesel Generator 400V / 7.5 kVA suitable for sensitive equipment
41075
Availability:

In stock

Delivery time:

In stock
The Mitropower PM7500TD3 is equipped with a reliable four-stroke diesel engine, AVR and a low oil alarm system. Suitable for sensitive equipment as computers, laptops, inverters etc. ...
More information
Uw aanvraag is verwerkt, u ontvangt z.s.m. een offerte!
Product description
Brand:

Mitropower

EAN:

8720892132369

Article number:

41075

Availability:

In stock

Delivery time:

In stock
The Mitropower PM7500TD3 Diesel Generator is a reliable and powerful solution for all your electricity needs. Whether you're facing a power outage, working on a remote site, or require backup power for your business, this generator is built to deliver consistent performance and peace of mind.
With a maximum output of 8.0 kVA and a rated output of 7.5 kVA, the Mitropower PM7500TD3 provides a steady and efficient power supply. It operates at 400V and 50 Hz, ensuring compatibility with a wide range of electrical devices and appliances. Additionally, the generator features a convenient DC output of 12V/8.3A for charging batteries and powering small electronic devices.
Equipped with a robust PM192FAG 1-cylinder diesel engine, this generator is designed to withstand demanding conditions and deliver optimal performance. With a displacement of 498 cc and a rated speed of 3000 rpm/min, it offers reliable and efficient power generation for extended periods.
Fuel efficiency is a priority, and the Mitropower PM7500TD3 ensures economical operation. It has a fuel capacity of 14.5 liters, providing up to 7.5 hours of continuous operation. At 75% load, the generator consumes approximately 1.93 liters of fuel per hour, minimizing fuel costs and reducing environmental impact.
Noise can be a concern, especially in residential or noise-sensitive areas. The Mitropower PM7500TD3 is designed with a noise level of 67 dB at a distance of 7 meters, ensuring quiet operation while maintaining high performance.
Safety features are paramount, and this generator incorporates an oil alarm system to prevent engine damage. It alerts you when the oil level is low, allowing for timely maintenance and ensuring the longevity of the generator.
The Mitropower PM7500TD3 Diesel Generator combines power with practicality. It features compact dimensions of L95 x B55 x H74 cm, making it easy to transport and store. Weighing 170 kg, it strikes a balance between sturdiness and maneuverability.
To give you peace of mind, this generator comes with a 2-year warranty, ensuring reliable performance and hassle-free usage. Additionally, there is a dedicated service station available to cater to any maintenance or repair needs.
Invest in the Mitropower PM7500TD3 Diesel Generator and experience a reliable and efficient power supply for your residential, commercial, or industrial requirements. With its robust engine, fuel efficiency, and thoughtful design, this generator is the perfect companion for any power-related challenges you may encounter.
Specifications
Model:

Mitropower PM7500TD3

Type:

Diesel Generator

Max. output:

400V / 50 Hz / 8.0 kVA

Rated output:

400V / 50 Hz / 7.5 kVA

DC output:

DC 12V / 8.3A

Engine Type:

PM192FAG 1-cylinder diesel engine

Displacement:

498 cc

Rated speed:

3000 rpm/min

Fuel capacity:

14,5 ltr/ 7,5 hrs.

Fuel consumption at 75% load:

1.93 ltr/hr

Noise level:

67 dB (7m)

Oil alarm:

Yes

Dimensions:

L95 x B55 x H74 cm

Weight:

170 kg.

Warranty:

2 Years

Service:

Servicestation available

Accessories:

Oilcan, Spark plug wrench