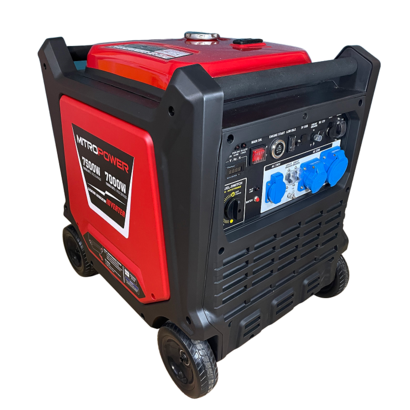 Mitropower
PM8000i - 8000W - 110 kg - 55 dB - Inverter Generator
PM8000i
Availability:

In stock

Delivery time:

In stock
The Mitropower PM8000i is a super-silent petrol generator with up to 7500W output for high demand applications like home back up, festivals, foodtrucks or for exhibitions. It has built in wheels to make it more portable. ...
More information
Uw aanvraag is verwerkt, u ontvangt z.s.m. een offerte!
Product description
Brand:

Mitropower

EAN:

8720892132321

Article number:

PM8000i

Availability:

In stock

Delivery time:

In stock
The NEW Mitropower PM8000i is the largest inverter frame generator in the range and features electronic fuel injection and eco-throttle facility for exceptional fuel efficiency. Additionally, a sealed fuel tank and the absence of a carburetor means that fuel stays fresher for much longer. The PM8000i boasts electric start and very low noise levels. It will run for up to 8 hours at full load on a full tank of unleaded petrol and up to 24 hours at 25% load. It is equipped with four robust wheels for ease of movement on site, making it a fully mobile generator. Ideal for use on work sites or for basic home or small business backup power. Ideal generator for home backup. Ideal generator for business backup. 
Specifications
Model:

Mitropower PM8000i

Type:

Inverter Generator

Max. output:

230V / 50 Hz / 7500W

Rated output:

230V / 50 Hz / 7000W

DC output:

Yes

Engine Type:

PM460

Displacement:

459 cc

Rated speed:

3000-4500 rpm

Fuel capacity:

26L

Fuel consumption at 75% load:

ltr/hr

Noise level:

55 dB / @ 7 mtr

Oil alarm:

Yes

Dimensions:

79 x 66 x 81cm

Weight:

110 kg

Warranty:

2 Years

Service:

Service Workshop

Accessories:

oil can, spark plug wrench
Product bundles with PM8000i - 8000W - 110 kg - 55 dB - Inverter Generator
Mitropower PM8000i en Shell Helix
€2.624,90 Incl. tax
Add to cart
Reviews