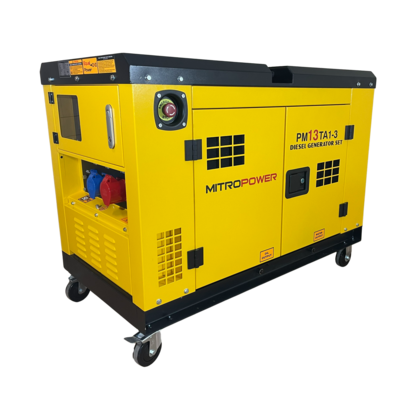 Mitropower
PM13TA1-3 | Diesel Generator 12 kVA suitable for sensitive equipment
43050
Availability:

In stock

Delivery time:

In stock
The Mitropower PM13TA1-3 is a powerful diesel generator with a maximum output of 12 kVA at 400V and 10 kVA at 230V. The generator features an AVR regulator, digital control panel, and a compact design with wheels for easy mobility. ...
More information
Uw aanvraag is verwerkt, u ontvangt z.s.m. een offerte!
Product description
Brand:

Mitropower

EAN:

8720892132338

Article number:

43050

Availability:

In stock

Delivery time:

In stock
The Mitropower PM13TA1-3 is a high-performance diesel generator designed to provide reliable power in demanding conditions. With a maximum capacity of 400V / 12 kVA and 230V / 10 kVA, as well as a continuous capacity of 400V / 11 kVA and 230V / 9 kVA, this generator is suitable for a variety of applications both at home and in the workplace.
The Mitropower PM13TA1-3's engine is a powerful 2V80 V-twin, water-cooled, 4-stroke diesel engine with a displacement of 749 cc and a speed of 3000 rpm. This provides efficient fuel consumption, allowing the generator to run for long periods of time on a tank capacity of 25 liters and a consumption of just 2.4 liters/hour at 75% load.
With a noise level of only 69 dB at 7 meters, the Mitropower PM13TA1-3 is a quiet power source, making it suitable for use in residential areas and other noise-sensitive environments. The generator is also equipped with an oil alarm that notifies you when the oil pressure is low.
The generator is compact and easy to move thanks to its wheels. The digital control panel makes it easy to adjust and monitor the most important functions and parameters. The automatic voltage regulator (AVR) ensures stable voltage even under fluctuating loads, while the ATS (automatic transfer switch) option ensures that the generator will automatically turn on in the event of a power outage.
Finally, the Mitropower PM13TA1-3 comes with a 2-year warranty, giving you peace of mind that you have a reliable power source that will serve you for years to come.
Specifications
Model:

Mitropower PM13TA1-3

Type:

Diesel Generator with sinewave alternator

Max. output:

400V / 12 kVA - 230V / 10 kVA

Rated output:

400V / 11 kVA - 230V / 9 kVA

DC output:

--

Engine Type:

2V80 - V-twin, water cooled, 4-stroke diesel engine

Displacement:

749 cc

Rated speed:

3000 rpm

Fuel capacity:

25 ltr.

Fuel consumption at 75% load:

2,4 ltr/hr

Noise level:

69 dB / (7m)

Oil alarm:

Yes

Dimensions:

L120 x W65 x H76 cm

Weight:

320 kg.

Warranty:

2 Years

Service:

Servicestation available

Accessories:

On request