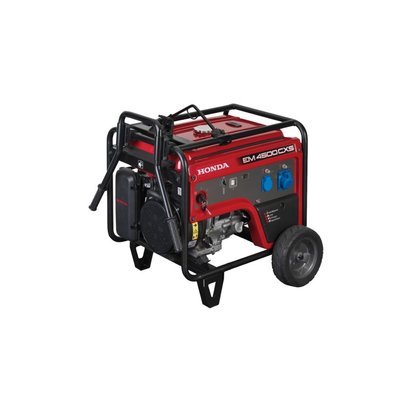 Honda
EM 4500CXS Gasoline Generator
41216
Delivery time:

2-5 business days
A longer running generator with 4500w power, i-AVR output, an iGX390 OHV 4-stroke engine and a running time up to nine hours ten minutes. ...
More information
Uw aanvraag is verwerkt, u ontvangt z.s.m. een offerte!
Product description
Brand:

Honda

EAN:

3573390020004

Article number:

41216

Delivery time:

2-5 business days
Intelligent energy
The output (top left) is produced via Honda's unique Intelligent Auto Voltage Regulator (i-AVR). Together with the load-sensing device it instantly reacts to any fluctuations in load, no matter how heavy. The compact EM 4500CXS is a low noise generator with Cyclo Converter technology. It delivers a stable wave of clean electricity (below left) – making it ideal for hospital emergency work and sensitive lighting.
Specifications
Model:

Honda EM 4500CXS

Type:

Frame generator

Max. output:

4500 Watt

Rated output:

4000 Watt

DC output:

--

Engine Type:

Honda i-GX390

Displacement:

--

Rated speed:

3000 rpm

Fuel capacity:

23,5 ltr. 9h6

Fuel consumption at 75% load:

ltr/hr

Noise level:

77 dB (A)

Oil alarm:

Yes

Dimensions:

725 x 706 x 719 mm

Weight:

106,5 kg

Warranty:

2 year

Service:

Servicestation available

Accessories:

--