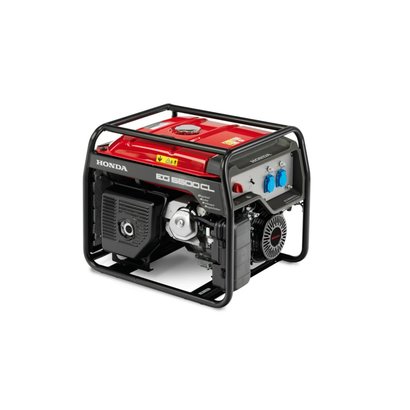 Honda
EG5500CL - 82 kg - 5500W - 82 dB - Generator
41225
Availability:

Out of stock

Delivery time:

Ask us for the delivery time
A robust, hard working generator with 5500w power, D-AVR output, a GX390 OHV 4-stroke engine and a running time up to eight hours ten minutes. ...
More information
Uw aanvraag is verwerkt, u ontvangt z.s.m. een offerte!
Product description
Brand:

Honda

EAN:

7435106128175

Article number:

41225

Availability:

Out of stock

Delivery time:

Ask us for the delivery time
Honda EG5500 Digital AVR Generator Details
The Honda EG5500 Petrol generator is powered by the latest generation of GX engine. This generator features power stability due to a Digital Auto Voltage Regulator (D-AVR).
The New Honda EG range has been designed for the professional user who requires am industrial machines combined with the smooth output of a portable set.
As always Honda has incorparated its normal reliability and performance for the most demanding commercial and rental applications.
The Honda EG500 has the ability to detect and react instantaneously to fluctuations in output voltage, the D-AVR technology provides cleaner electricity. This gives extra torque and optimal performance in any electrical motor application, with a stable output to run power tools and incandescent lighting without causing flickering.
Housed in a durable tubular frame, the overhead valve (OHV) GX engine produces plentiful power and has excellent fuel efficiency, all whilst reducing emissions and noise without the use of a catalyst. A centralised layout of all controls ensures the EG range of generators are highly versatile but simple to use.
Computers and power-sensitive testing equipment require what is referred to as "clean power." Clean power is electrical current that is consistent and has a stable "sine wave" or signal. If the lights or other basic appliances in your home were being powered by a generator and there was a fluctuation in the AC power, you'd probably see the lights dim and then return to full brightness—no problem! However, if your computer was being powered by a generator and the voltage fluctuated, chances are the computer would either shut down or at least interrupt the program you were working in. 
Specifications
Model:

Honda EG 5500CL

Type:

Frame generator with D-AVR

Max. output:

5500 Watt

Rated output:

5000 Watt

DC output:

--

Engine Type:

GX390T2

Displacement:

389 cc

Rated speed:

3000 rpm

Fuel capacity:

24 ltr. 8.10 h.

Fuel consumption at 75% load:

ltr/hr

Noise level:

82 dB

Oil alarm:

Yes

Dimensions:

681 x 530 x 571 mm

Weight:

82,5 kg

Warranty:

2 year

Service:

Servicestation available

Accessories:

--