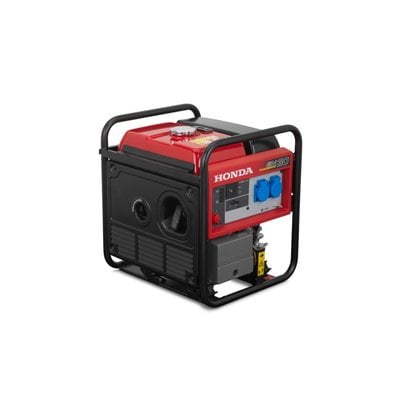 Honda
EM 30 cyclo-converter generator for sensitive emergency services
41215
Availability:

Out of stock

Delivery time:

Ask us for the delivery time
Quality comes at a premium, and you wouldn't want to trust anything less than a Honda Generator for home back up. These machines deliver stable, smooth power that won't damage any of the sensitive appliances you have in your home. ...
More information
Uw aanvraag is verwerkt, u ontvangt z.s.m. een offerte!
Product description
Brand:

Honda

EAN:

3573390010524

Article number:

41215

Availability:

Out of stock

Delivery time:

Ask us for the delivery time
Perfect light for photographers
Professional filmmakers and photographers pick Honda generators for location work entirely for the purity of the light they get when they use this power source. Our generators produce the best results for film or video – thanks to electricity produced by Honda's pioneering Inverter technology.
Not even a flicker
Your eye is fast enough to see a flickering light and a camera will pick it up too. It's important to have a smooth supply of electricity for the very best results. These unique inverters smooth out a spiky electronic wave so the power produced is not only cleaner and smoother, it's as good as your mains supply at home.
Specifications
Model:

Honda EM 30

Type:

Gasoline Generator

Max. output:

3000 Watt

Rated output:

2600 Watt

DC output:

12 ampère

Engine Type:

GX200

Displacement:

196 cc

Rated speed:

3.600 max.

Fuel capacity:

9,7 ltr. / 6h.

Fuel consumption at 75% load:

ltr/hr

Noise level:

79 dB

Oil alarm:

Yes

Dimensions:

445 x 400 x 480 mm

Weight:

32 kg

Warranty:

2 year

Service:

Servicestation available

Accessories:

--