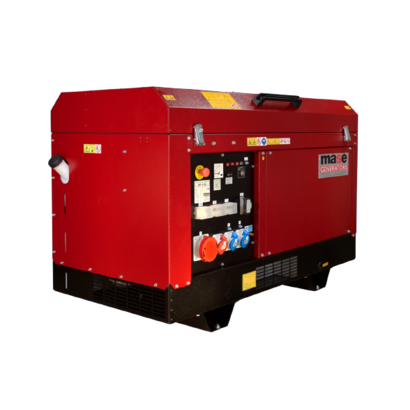 Mase
MDF 44 BA - 830 kg - 44 kVA - 70 dB - Generator
MMDF44BA
Delivery time:

Directly available
Reliable and powerful power solution for professional use. Equipped with a Yanmar 4 TNV 98T diesel engine, Compact design, low noise, and durable. 2-year warranty. ...
More information
Uw aanvraag is verwerkt, u ontvangt z.s.m. een offerte!
Product description
Brand:

Mase

EAN:

7435106149149

Article number:

MMDF44BA

Delivery time:

Directly available
The MPF BA series from Mase has an electric start and is water cooled.
Developed for professional purposes, these generators have innovative and technical features that deliver high performance. The professional generators of Mase Generators are available in diesel or gasoline, have a high starting capacity, low maintenance, excellent voltage and frequency stability, practical use, high reliability and low operating costs. In short, a high-quality product at a competitive price.
This unit has the Yanmar 4 TNV 98T engine and is therefore very reliable.
Specifications
Model:

Type:

Diesel Generator

Max. output:

44 kVA

Rated output:

40 kVA

DC output:

-

Engine Type:

Yanmar 4 TNV 98T

Displacement:

3108cc

Rated speed:

1500 rpm

Fuel capacity:

50L

Fuel consumption at 75% load:

8,1 ltr/hr

Noise level:

70dB @ 7m

Oil alarm:

yes

Dimensions:

1640 × 770 × 1080 mm

Weight:

830Kg

Warranty:

2 years

Service:

personal service workshop

Accessories:

present