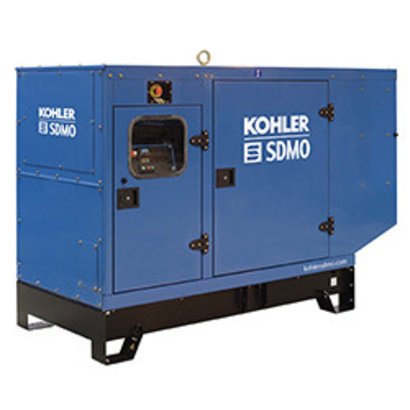 Kohler SDMO
J88 - 1508 kg - 88 kVA - 67 dB - Generator
KSDMOJ88K
Availability:

In stock

Delivery time:

In stock
Kohler SDMO J88 silent diesel generator 88 kVA 400V. Very compact and soundproof professional generator with 1500 rpm watercooled John Deere diesel engine. ...
More information
Uw aanvraag is verwerkt, u ontvangt z.s.m. een offerte!
Product description
Brand:

Kohler SDMO

EAN:

7435106172192

Article number:

KSDMOJ88K

Availability:

In stock

Delivery time:

In stock
Are you looking for a reliable power source for your home, business, or other activities? Get to know the Kohler SDMO J88 Diesel Generator - your partner for power and reliability. This generator delivers top-notch performance and is designed to provide uninterrupted power supply even in the most adverse conditions.
Powerful
With a capacity of 88 kVA, the Kohler SDMO J88 effortlessly handles any situation. Whether you need to operate essential equipment in your business or provide power to your home during a blackout, this generator delivers the required power without issues.
Thanks to advanced technologies, including an efficient engine and intelligent fuel control, the J88 offers excellent fuel efficiency. This means lower fuel costs and longer runtime, saving you money and benefiting the environment.
Noise Reduction
With its integrated noise reduction technology, the Kohler SDMO J88 operates quietly, making it ideal for use in noise-sensitive environments. You can enjoy power without being disturbed by noise levels.
This generator is built for long-term durability. It is constructed from high-quality materials and undergoes rigorous quality control to ensure longevity and reliability even in demanding conditions.
Easy Operation
The J88 is user-friendly. The intuitive control panel makes it easy to start, stop, and monitor the generator, allowing you to maintain control at all times.
Choose the Kohler SDMO J88 Diesel Generator and secure uninterrupted power supply in any situation. Whether it's emergencies, business continuity, or your next outdoor adventure, this generator is at your service.
Contact us today to learn more about the Kohler SDMO J88 1500 rpm Diesel Generator and how it can be tailored to your power needs. Reliability, efficiency, and performance - all in one powerful diesel generator.
Specifications
Model:

J88K

Type:

Diesel

Max. output:

400 V / 50 Hz / 88 kVA

Rated output:

400 V / 50 Hz / 80 kVA

DC output:

--

Engine Type:

JOHN DEERE 4045TF220

Displacement:

4480 cc

Rated speed:

1500 rpm

Fuel capacity:

180 L

Fuel consumption at 75% load:

14 ltr/hr

Noise level:

67 dB @ 7mtr

Oil alarm:

Yes

Dimensions:

Weight:

1508 kg

Warranty:

2 Years

Service:

Servicestation available

Accessories:

Always available