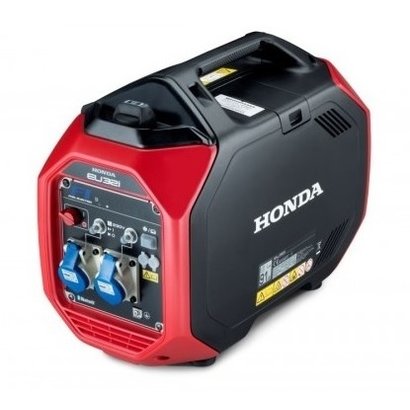 Honda
EU32i - 26.5 kg - 3200W - 66 dB - Inverter Generator
41029
Availability:

In stock

Delivery time:

In stock
The new Honda EU32i generator is incredibly versatile with high-spec features and an intelligent design that makes it easy to use, start and carry the generator. ...
More information
Uw aanvraag is verwerkt, u ontvangt z.s.m. een offerte!
Product description
Brand:

Honda

EAN:

3573390015079

Article number:

41029

Availability:

In stock

Delivery time:

In stock
What a powerhouse, the Honda EU32i inverter petrol generator. Equipped with a newly designed fuel injection engine GX130. High power in a portable and compact housing. The generator is designed with rounded corners to avoid impact.

Simple and easy (bluetooth) operation!
The EU32i supports wireless connection with Bluetooth via an app, allowing remote monitoring and control of the generator. Status options:
- stop engine
- output power
- hour counter
- operating time
- maintenance information

Cooling structure and fuel efficiency!
The EU32i delivers high cooling performance while being lightweight and compact. This allows the engine to operate at the theoretical air-fuel ratio, resulting in high environmental and fuel efficiency at the highest level in its class. Improved cooling performance also allows the engine to run at higher revs, contributing to better power generation performance.

Endless employability!
The applications for the EU32I are endless. Can be used for all applications, from recreational users to events and from emergency services to industry. Honda generators are rightfully number 1 in the world. Reliable, robust, quiet and purest voltage.
Specifications
Model:

Honda EU32i

Type:

Digital Inverter Generator

Max. output:

3200 Watt / 230V / 50 Hz

Rated output:

2800 Watt / 230V / 50Hz

DC output:

--

Engine Type:

Honda GX130

Displacement:

130 cm3

Rated speed:

3500 - 5500 rpm

Fuel capacity:

4,7 ltr.

Fuel consumption at 75% load:

1.4 ltr/hr

Noise level:

66 dB(A) / 7 m

Oil alarm:

Yes

Dimensions:

L 571 mm x B 306 mm x 452 mm

Weight:

26,5 kg.

Warranty:

2 Years

Service:

Servicestation available

Accessories:

Always available
Reviews