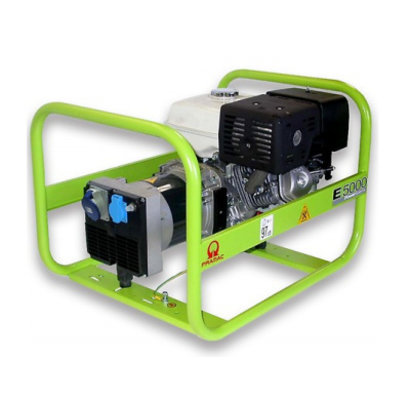 Pramac
E5000 generator with Honda engine 230V
41147
Pramac E5000 gasoline generator with 4,6 kW power output and Honda engine. ...
More information
Uw aanvraag is verwerkt, u ontvangt z.s.m. een offerte!
Product description
Brand:

Pramac

EAN:

7435106125112

Article number:

41147

Delivery time:

In stock
Pramac E5000 Gasoline 230V
Pramac E Class machines can be used in various fields as emergency power supplies or industrial uses. All of this range are designed to comply with current regulations to ensure that the operators have the security of a high level of quality.
The components that are used for the construction of these machines are the result of precise selection from the suppliers, which gives high standards of quality at low costs of production. First class materials and superior quality finishing (painting with epoxy powder) etc.are used in production of these machines.
High levels of technology and reliability characterise these products. They represent the most advanced products in today's market in their respective range of power and are chosen on their innovative specifications by many important users in industry, agriculture, building and hire.





Specifications
Model::

Pramac E5000

Type::

Frame generator

Max. output::

4600 Watt

Rated output::

3900 Watt

DC output::

--

Engine Type::

Honda GX270

Lube oil brand::

SAE 10W40

Displacement::

270 cc

Rated speed::

3000 rpm/min

Fuel capacity::

3.3 ltr. / 2.39 hrs.

Noise level::

69 dB (7m)

Oil alarm::

Yes

Dimensions::

L71,5 x W54 x H49 cm

Weight::

61 kg

Warranty::

2 year

Service::

Servicestation available

Accessories::

--