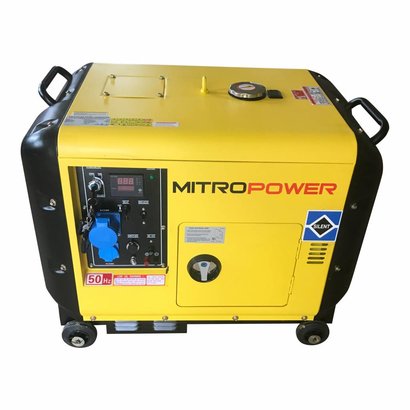 Mitropower
MP6000S -150 kg - 5000W - 67 dB - Aggregate
MP6000s
The MP6000S from MitroPower is an absolute winner in its category. ...
More information
Uw aanvraag is verwerkt, u ontvangt z.s.m. een offerte!
Product description
Brand:

Mitropower

EAN:

978020137962

Article number:

MP6000s

Delivery time:

In stock
This Mitropower silenced diesel generator is used in construction, shipping, off-grid systems and as an emergency power supply.
This diesel aggregate is standard equipped with a remote control, AVR and a connection for emergency power.
The 5 kW diesel generator is light in weight, electric start and economical in fuel consumption.
Specifications
Model::

MP6000S

Type::

Diesel Generator

Max. output::

5500W

Rated output::

5000W

DC output::

Yes

Engine Type::

LA186FG

Lube oil brand::

SAE30/10W-30

Displacement::

418 cc

Rated speed::

3000 rpm

Fuel capacity::

16L

Noise level::

67 dB @ 7m

Oil alarm::

Yes

Dimensions::

900x520x700 mm

Weight::

150 kg

Warranty::

2 years

Service::

Servicestation available

Accessories::