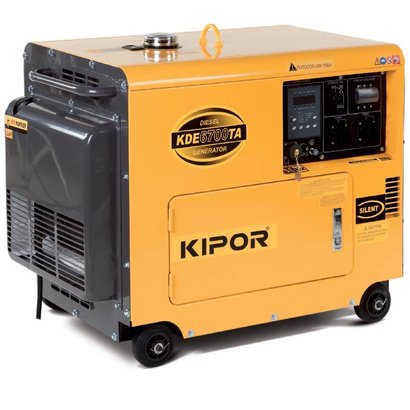 Kipor
KDE6700TA AVR Generator equipped with a Kipor four-stroke diesel engine
4107556
Availability:

In stock

Delivery time:

2-5 business days
The Kipor KDE6700TA is equipped with a Kipor four-stroke diesel engine, AVR and a low oil alarm system. ...
More information
Uw aanvraag is verwerkt, u ontvangt z.s.m. een offerte!
Product description
Brand:

Kipor

EAN:

7435106174196

Article number:

4107556

Availability:

In stock

Delivery time:

2-5 business days
Strong power
All diesel generator sets are equipped with KIPOR four-stroke engines, also the Kipor KDE6700TA Diesel Generator.
Advanced alternator winding
Waveform distortion is kept at a minimum level and the output is stable. The winding design protects the generator from short circuits and provides a stable output while running inductive loads.
Low oil alarm system
Before the oil level drops to the limited level, the generator set will stop automatically. The whole set can be restarted only if the oil is refilled.
Application of new Automatic Voltage Regulator
The Automatic Voltage Regulator not only can smooth the output but also can provide reasonable protec-tion against the overload of the whole set, thus avoid damage to the set.
Specifications
Model::

Kipor KDE6700T

Type::

Diesel Generator

Max. output::

5500 Watt

Rated output::

5000 Watt

DC output::

--

Engine Type::

KM186FAGET 1-cylinder diesel engine

Lube oil brand::

SAE 10W40

Displacement::

418 cc

Rated speed::

3000 rpm/min

Fuel capacity::

15 ltr/ 6,5 hrs.

Noise level::

72 dB (7m)

Oil alarm::

Yes

Dimensions::

L93 x B53,5 x H74,2 cm

Weight::

177 kg.

Warranty::

2 Years

Service::

Servicestation available

Accessories::

Oilcan, Spark plug wrench