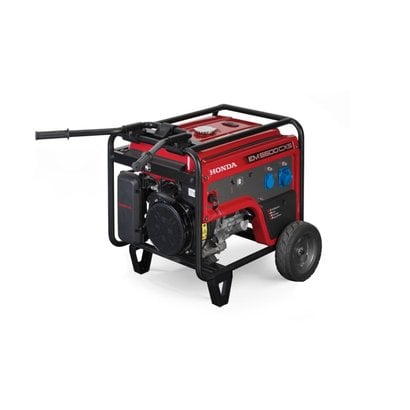 Honda
EM 5500CXS Gasoline Generator with i-AVR technology
41217
Availability:

Out of stock

Delivery time:

Ask us for the delivery time
A robust hard working generator with 5500w power, i-AVR output, an iGX390 OHV 4-stroke engine and a running time up to seven hours forty minutes. ...
More information
Uw aanvraag is verwerkt, u ontvangt z.s.m. een offerte!
Product description
Brand:

Honda

EAN:

3573390020028

Article number:

41217

Availability:

Out of stock

Delivery time:

Ask us for the delivery time
Low cost supply
The Honda Eco-Throttle™ is a unique load-sensing device. As the load increases, so do the revs – quietly and instantly, without you experiencing any drop in power. And when the demand drops the revs will decrease, saving you fuel and money.
Run for hours
With running times of up to nine hours (depending on load), and six hours for the EM 30, you'll forget you've had a power cut. Choose the EM 4500 CXS or EM 5500 CXS and you'll find that once they're quietly humming along they'll cope with any demand you make of them, instantly reacting to any fluctuations in load – even heavy start up load.
Specifications
Model:

Honda EM 5500CXS

Type:

Frame generator with i-AVR

Max. output:

5500 Watt

Rated output:

5000 Watt

DC output:

--

Engine Type:

Honda i-GX390

Displacement:

389 cc

Rated speed:

3000 rpm

Fuel capacity:

23,5 ltr. 8h

Fuel consumption at 75% load:

ltr/hr

Noise level:

77 dB (A)

Oil alarm:

Yes

Dimensions:

725 x 706 x 719 mm

Weight:

108,8 kg

Warranty:

2 year

Service:

Servicestation available

Accessories:

--