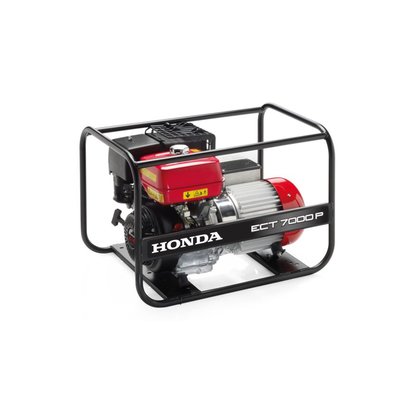 Honda
ECT 7000P Gasoline Generator with AVR technology
41222
Delivery time:

Directly available
The single/three phase inductive type generator, with power rating from 4000W to 7000W has a running time of just over two hours. ...
More information
Uw aanvraag is verwerkt, u ontvangt z.s.m. een offerte!
Product description
Brand:

Honda

EAN:

3573390003151

Article number:

41222

Delivery time:

Directly available
Low maintenance
Very low maintenance makes a Honda Endurance generator ideal for a non-stop working environment. Once they're up and running, they'll cope with any demand you make of them. And because they run at a constant rpm, the electrical supply is always standing ready at the gate. Three phase generators have voltage options of 250V and 400V for a variety of different applications.
Specifications
Model:

Honda ECT 7000P

Type:

Frame generator with AVR

Max. output:

7000 Watt

Rated output:

4000 Watt

DC output:

--

Engine Type:

Honda GC390

Displacement:

389 cc

Rated speed:

3000 rpm

Fuel capacity:

6,2 ltr. 2h15

Fuel consumption at 75% load:

ltr/hr

Noise level:

87 dB

Oil alarm:

Yes

Dimensions:

800 x 550 x 540 mm

Weight:

86 kg

Warranty:

2 year

Service:

Servicestation available

Accessories:

--