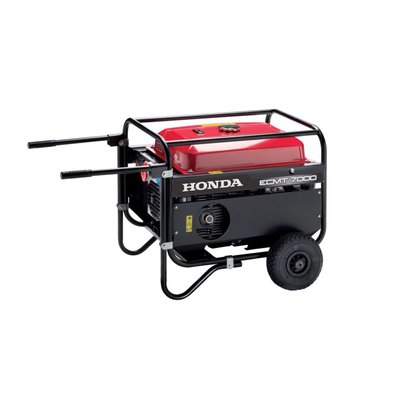 Honda
ECMT 7000 Gasoline unit with transport wheels
41221
Delivery time:

2-5 business days
The three phase inductive type generator, with power rating of 7000W has a running time of just over two hours. ...
More information
Uw aanvraag is verwerkt, u ontvangt z.s.m. een offerte!
Product description
Brand:

Honda

EAN:

3573390003663

Article number:

41221

Delivery time:

2-5 business days
More power
The dependable generators that keep going for as long as you do. Endurance generators are your best friends in the industrial and commercial workplace. They're tireless workhorses – made tough for tough environments and they're the first choice for heavy outdoor use and hire companies.
Specifications
Model::

Honda ECMT 7000

Type::

Frame generator

Max. output::

7000 Watt

Rated output::

4500 Watt

DC output::

--

Engine Type::

Honda GC390

Lube oil brand::

SAE 15W40

Displacement::

389 cc

Rated speed::

3000 rpm

Fuel capacity::

22,8 ltr. 8.10 h.

Noise level::

85 dB

Oil alarm::

Yes

Dimensions::

755 x 550 x 560 mm

Weight::

104 kg

Warranty::

2 year

Service::

Servicestation available

Accessories::

--