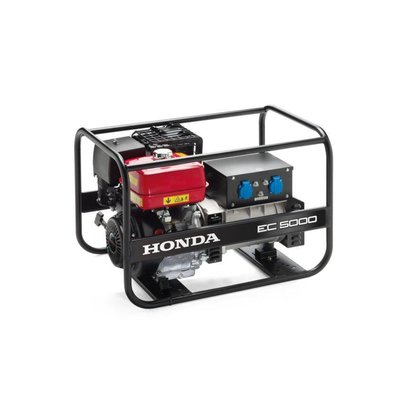 Honda
EC5000 Generator have running times ranging from just under three, to nine hours
41094
Availability:

In stock

Delivery time:

Directly available
The single phase condenser type generators, with power rating from 2000W to 5000W have running times ranging from just under three, to nine hours. ...
More information
Uw aanvraag is verwerkt, u ontvangt z.s.m. een offerte!
Product description
Brand:

Honda

EAN:

3573390003069

Article number:

41094

Availability:

In stock

Delivery time:

Directly available
When you're dealing with an emergency situation, the last thing you need is a power emergency. These Honda Endurance generators – like our emergency services – are up to any challenge. They're robust and dependable – just lift them out of the vehicle, set them down on the ground and fire them up – that's it. You've got instant, reliable power at any location.
Specifications
Model:

Honda EC5000

Type:

Open frame generator

Max. output:

5000 Watt

Rated output:

4500 Watt

DC output:

--

Engine Type:

Honda GX390T1

Displacement:

389 cc

Rated speed:

max. 3000 rpm/min

Fuel capacity:

6,2 ltr/ 2,17 hrs.

Fuel consumption at 75% load:

ltr/hr

Noise level:

87 dB (7m)

Oil alarm:

Yes

Dimensions:

L80 x B55 x H54 cm

Weight:

75 kg.

Warranty:

2 Years

Service:

Servicestation available

Accessories:

--