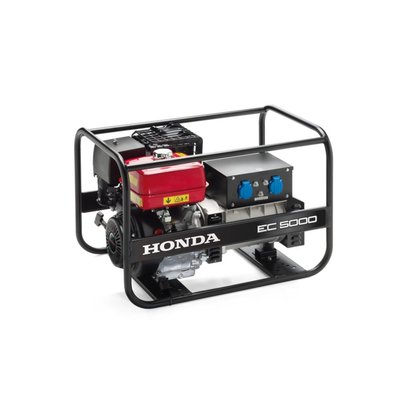 Honda
EC 5000 Gasoline Generator
41219
Delivery time:

2-5 business days
The single phase condenser type generators, with power rating of 5000W have running times time of 2,5 hrs. ...
More information
Uw aanvraag is verwerkt, u ontvangt z.s.m. een offerte!
Product description
Brand:

Honda

EAN:

3573390003069

Article number:

41219

Delivery time:

2-5 business days
Power Emergency
When you're dealing with an emergency situation, the last thing you need is a power emergency. These Honda Endurance generators – like our emergency services – are up to any challenge. They're robust and dependable – just lift them out of the vehicle, set them down on the ground and fire them up – that's it. You've got instant, reliable power at any location.
Specifications
Model::

Honda EC 5000

Type::

Frame generator

Max. output::

5000 Watt

Rated output::

4500 Watt

DC output::

--

Engine Type::

GX390T1

Lube oil brand::

SAE 15W40

Displacement::

389 cc

Rated speed::

3000 rpm

Fuel capacity::

6.2 ltr. 2.50 h.

Noise level::

87 dB

Oil alarm::

Yes

Dimensions::

800 x 550 x 540 mm

Weight::

75 kg

Warranty::

2 year

Service::

Servicestation available

Accessories::

--